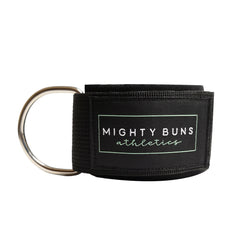 Focus on muscle isolation exercises OR 
build a booty without growing the quads! Comes with a single strap.
FEATURES: Premium quality thick neoprene padding for heavy weights, lightweight design, and adjustable ankle cuff. It looks great and easily fits in your gym bag.

COMFORTABILITY: Adjustable support straps secured with heavy-duty velcro, making this strap extremely easy to adjust, put on, and take off. Fits any ankle size effortlessly. Designed for any fitness level, beginners to heavy-lifters. 

🍑 BOOTY ISOLATION WORKOUTS: Cable Kickbacks, Cable Straight Leg Kickbacks, Cable Hip Abduction & Adduction, and many more! Increase your strength and sculpt your booty.

💪🏽 OTHER ISOLATION EXERCISES: Cable Leg Mountain Climbers, Cable Lunges, Inner & Outer Thigh Contractions, and many more! This ankle strap for the cable machine is perfect for muscle isolation exercises, especially for your glutes, hamstrings, and quads.
Shipping Policy:
Due to Covid-19, some orders may experience delays.
All orders are processed within 24-48 hours.
Orders to United States can be expected to arrive within 8-25 business days.
All orders outside United States can be expected to arrive within 10-25 business days.
For any questions or concerns, please contact us via email: [email protected]