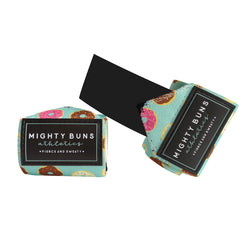 Empowering your lifts with our heavy-duty wrist wraps, while looking cute AF.
All designs are limited edition. Get yours before they run out!
QUALITY MATTERS: The highest grade of polyester cotton. Wraps are nontoxic and lead-free, unlike many in the market. Built to outperform and outlast other brands.
WOMEN FIT: Not all wrist wraps are one size fit all. These are made specifically for women because some women lifters have tiny wrists and are not able to find wrist wraps that fit comfortably and securely for them. These wraps are made in a material to be able to accompany even the smallest of wrists while befitting for large wrist sizes too. Our wraps are soft and secure. They're elastic enough to make sure every wrist feels a good amount of tightness. They're comfortable to put on and will provide the support, immobilization, and stiffness for the heaviest lifts. There aren't many in the market like ours. 😊
They're 18 inches long, 3 inches wide. This length is also not too long, making the wrapping process quick and not cumbersome.
Each pair is made specifically for each hand, the left and right, for symmetrical wrapping.
Our thumb loop lasts longer than others in the market because they don't fray or snap, and we double zig-zag stitch our hook and loop, ensuring it doesn't tear from the elastic. It secures strong and doesn't pop loose mid-set (we hate it when that happens, we totally get it). 
They're extremely secure and soft at the same time!
They gotta be freakin' cute. Pretty sure the gym could have some cute accessories too. Sometimes your cute outfit is motivating! Also, who doesn't like donuts or flowers? Hmm? 😂
FOR HEAVY LIFTING: Built to accompany Weight Training, Strength Training, Weightlifting, Powerlifting, Bodybuilding, MMA, and CrossFit. Protect your wrist from any unnecessary strains and feel empowered to lift heavier than ever.  
As mentioned earlier, all designs are limited edition. When these run out, we'll have new designs available. 😊 
Grab another pair to match with your workout buddy. 👭✨
Your set includes:
A heavy-duty polyester cotton wrist wrap pair
A compact zip carrying bag
Shipping Policy:
Due to Covid-19, some orders may experience delays.
All orders are processed within 24-48 hours.
Orders to United States can be expected to arrive within 8-25 business days.
All orders outside United States can be expected to arrive within 10-25 business days.
For any questions or concerns, please contact us via email: [email protected]