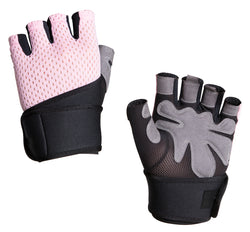 You started your weight training journey and now your palms are suffering. What do you do? Use training gloves to protect your palms during your weight training regime.
Mighty Buns Glove Features:
PALM PROTECTION: Protect your hands from calluses and bruises when you train. The double-layer palm design with foam and microfiber protects your palm and helps you train longer.

COMFORTABLE &

BREATHABLE

: Made with high-quality microfiber to allow for a comfortable workout. This breathable lightweight mesh fabric on the back helps to keep your hands dry.

ADJUSTABLE & CONVENIENT: Adjustable Velcros provide the user with the ability to adjust to their personal comfort. The pull buckles on the fingertip make it easy to take off.

ALL-PURPOSE GLOVES: Perfect fit for weightlifting, Pull-Ups, HIIT, Crossfit, gym training, and general workouts. Be wary that they may not be durable enough for extreme heavy-lifting workouts since these gloves are lightweight and soft.

CUSTOMER SERVICE: If you encounter any issues with our products, like size, fit, or comfortability, we are more than happy to hear your feedback and either offer free exchanges, a full refund for you within 30 days of purchase or provide you with other satisfactory solutions. 
Shipping Policy:
Due to Covid-19, some orders may experience delays.
All orders are processed within 24-48 hours.
Orders to United States can be expected to arrive within 8-25 business days.
All orders outside United States can be expected to arrive within 10-25 business days.
For any questions or concerns, please contact us via email: [email protected]