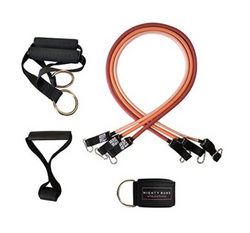 In this one little pouch, you can level up your home gym or transform your travel workouts! Bring this resistance tube band set with you everywhere on the go! Train your whole body, everywhere and anywhere.
STACKABLE AND ADJUSTABLE WEIGHTS UP TO 90 LBS: Your set includes 3 resistance bands, starting from 20 lbs, then 30 lbs, then 40 lbs. Weights can stack up to 90 lbs! We tested the 10 lbs resistance tube and it is honestly so light that most people don't use it. It's kind of pointless. We skipped that level and offer a heavier tube—40 lbs. Yes, we're cute and we look friendly, but we also challenge you because what kind of growth comes with no challenge?
HIGH-QUALITY LATEX: Designing this product would never last with bad quality products. It just wouldn't work. Our latest is the best there is to make sure it doesn't snap and you can stack weights comfortable with zero issues. Made with high-quality latex to withstand your toughest workouts because we're all about the gains.
TURN ANY ROOM INTO A HOME GYM: The door anchor can be attached to any hinged door to instantly turn any room into a home gym. Easy to set up or take down in seconds.
TRAVEL FRIENDLY / PORTABLE: Workout anywhere! We provide a mesh travel bag to make it easy to bring your tube set to either the gym, office or travel. Workout and stay fit on the go!
AESTHETIC AND FEMININE: We want you to feel excited about using our nude and pastel pink resistance band set. If you have either a libra sun sign, libra moon or libra rising—you feel motivated when you are surrounded by beautiful things or products that fit into your room like a decor and eases your soul. Haha, we get it! Designs matters, your feelings matter.
FULL BODY WORKOUT: This versatile resistance band set allows you to do a wide variety of full body exercises targeting all of your major muscle groups. Work out your shoulders, arms, back, abs and legs!
COMPLETE 6 PIECE SET: 3 levels of adjustable resistance bands or tubes (whatever you want to call them), a pair of handles, an ankle strap, a door anchor, A travel bag, a free workout guide when you subscribe to our newsletter!
Shipping Policy:
Due to Covid-19, some orders may experience delays.
All orders are processed within 24-48 hours.
Orders to United States can be expected to arrive within 8-25 business days.
All orders outside United States can be expected to arrive within 10-25 business days.
For any questions or concerns, please contact us via email: [email protected]