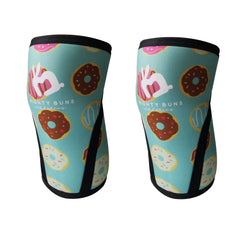 A basic squatting accessory that's not so basic. Who doesn't like donuts or peonies? 
All designs are limited edition. Get yours before they run out!
QUALITY MATTERS: Handcrafted from high-quality 7mm neoprene with reinforced stitching. Improve your athletic performance with our knee sleeves, featuring an ergonomic design for the perfect fit.
WOMEN FIT: We sell XS sizes that fit smaller women! We get it, there are so many extra large sizes in the market made for bigger and heavy lifters. But Mighty Buns knows some extremely small buff girls that are lean and strong as hell. We offer XS size because some women lifters are simply more on the petite and lean side and are not able to find knee sleeves that provide enough compression for them. There aren't many in the market like our quality and size. 😊
They're 7mm thick for lots of compression and support.
They prevent injury by reinforcing the body's weaker joints.
The compression helps with faster recovery by alleviating joint and muscle pain.
They gotta be freakin' cute. Pretty sure the gym could have some cute accessories too. Sometimes your cute outfit is motivating!
FOR HEAVY LIFTING: Built to accompany Weight Training, Strength Training, Weightlifting, Powerlifting, Bodybuilding, MMA, and CrossFit. Protect your knees from any unnecessary strains and feel empowered to lift heavier than ever.  
As mentioned earlier, all designs are limited edition. When these run out, we'll have new designs available. 😊 
Friends don't let friends skip leg day! Be sure to grab another pair to match with your workout buddy. 👭✨
Your set includes:
A pair of 7mm thick neoprene knee sleeves
A compact zip carrying bag
If for some reason the knee sleeves don't fit the way you like it, we offer free exchanges and shipping. :) Just shoot us an email at [email protected] and we will respond with a shipping label for your exchange!
Shipping Policy:
Due to Covid-19, some orders may experience delays.
All orders are processed within 24-48 hours.
Orders to United States can be expected to arrive within 8-25 business days.
All orders outside United States can be expected to arrive within 10-25 business days.
For any questions or concerns, please contact us via email: [email protected]