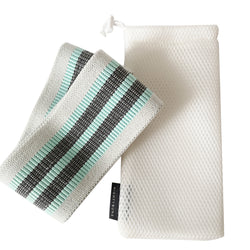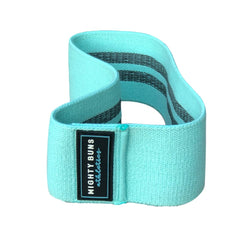 Bring your workouts to the next level and grow your booty with Mighty Buns Hip Band! 
What makes our bands special:
DESIGN MATTERS: On a mission to design aesthetically appealing fitness products. Hot pink is not the only color that should represent women at the gym, nor is it the only color that women like with their style.
QUALITY MATTERS: Heavy-duty resistance band is made with superior quality materials, creating a durable, smooth, and soft fabric surface for even elasticity.
IMPORTANT FEATURES: Non-slip grips on the inner layer of the bands to prevent them from rolling up and slipping during a workout.

Pink/ Mint Band has up to 200 lbs of resistance for overall glute-building exercises, such as donkey kicks, hip thrusts, glute bridges, squats, jump squats, frog pumps, etc.
Grey Band has up to 150 lbs of resistance for side booty-building exercises, such as crab walks, hip abduction, one-legged glute bridges, etc.
Boba Band is actually an adjustable band with up to 175 lbs of resistance. It's adjustable so it is made to fit you better and can be adjusted so it fits your workout partner if they're larger or smaller! With different lengths, you can also adjust the difficulty and we made ours a little longer so you can incorporate stretches into your routine!

WORKOUT COMPATIBILITY: Bring your glute, hip activation, and strength training workouts intensity up a notch, while improving your form. Can be used for Weightlifting, CrossFit, Hot Yoga, Insanity, P90x, Pilates, Bikini Body Guides, and more!
FOR WARM-UP/EXERCISE: Activates your glute and adds heavy-duty resistance to your favorite lower body exercises such as squats, hip thrusts, abductors, kickbacks, and more! 
Your set includes:
A heavy-duty hip band that features an inner layer with grips
A compact mesh carrying bag
A small thank-you postcard!
Shipping Policy:
Due to Covid-19, some orders may experience delays.
All orders are processed within 24-48 hours.
Orders to United States can be expected to arrive within 8-25 business days.
All orders outside United States can be expected to arrive within 10-25 business days.
For any questions or concerns, please contact us via email: [email protected]